Specifications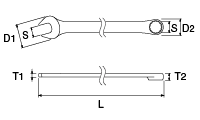 | No. | S | L | D1 | D2 | T1 | T2 | ▼ g. |
| --- | --- | --- | --- | --- | --- | --- | --- |
| MS3-08T | 8 | 150 | 18 | 11.5 | 3 | 4.5 | 25 |
| MS3-10T | 10 | 180 | 21.5 | 14.5 | 3 | 5.5 | 40 |
| MS3-15T | 15 | 240 | 32 | 21 | 4.2 | 8 | 105 |
A thin wrench convenient for work at teikan of a double nut and a small gap.
Lengthily, full length becomes easier to increase in force than the standard type.
I made the design which made the state a petal of a cherry tree dances in the surface of a river in Takase-gawa which flows in the Kyoto city a motif for the pattern part.
Concentration of a stress was stopped in the caliber part on the wrench side of glasses and the POWERFIT shape easy for a bolt nut was adopted.

Full length is the thin type lengthily, so of force, please put it in badly and be careful.
Related products